Whether you live in a new build house or a period property, your front door reveals a lot about you and your personality. It should be a focal point and create an ever-lasting positive first impression.
When choosing a replacement front door, composite doors and UPVC doors continue to be the most popular amongst our customers, especially as they require little to no maintenance, so we are confident that you will like them too.
Let us tell you the differences.
What is a composite door?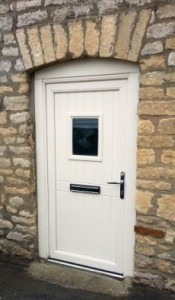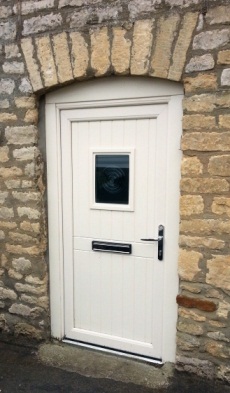 Composite doors combine the best qualities of many materials such as timber and uPVC. A moulded GRP (glass-reinforced plastic) skin gives the door its weather protective and durable coating, as well as its attractive appearance. They are also filled with a high-density polyurethane foam to offer high resistance to denting, warping, twisting, flaking, cracking, and fading.
What is a uPVC door?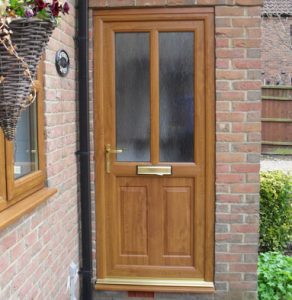 uPVC doors are made by encasing an insulated steel frame in un-plasticized polyvinyl chloride (UPVC) to create a sealed unit which is strong and thermally efficient. Traditionally uPVC doors are more budget-friendly than composite doors.
What are the security features on both of the door types?
As a composite door is made up of several different materials including timber and uPVC, this makes it one of the strongest and most resilient door types on today's market. If you view a composite door from the side, you will notice that its incredible thickness of 44mm, almost double the thickness of a standard uPVC door. This makes it a great contender to keep away any unwanted visitors.
Although a uPVC door isn't as thick as a composite door, do not let that fool you! Instead, it features a host of enhanced security features including a multi-point locking mechanism that locks at multiple frames on the door, ensuring that you and your family are kept safe all year round.
What energy ratings can both doors achieve?
Do you currently suffer from a draught going through your living space? "Yes", we hear you say. Well don't worry as we have you covered. We know that keeping your home warm and cosy is high on our customers list of priorities – nobody likes to be cold! – which is why both our composite doors and uPVC doors are made with energy and thermal efficiency in mind.
What colours and accessories are available with a uPVC or composite door?
No matter what colour you would like for your replacement front door, we are confident we have one for you.
Our composite doors are available in nine popular colours with a lifelike woodgrain finish for enhanced effect and boast an array of customisable hardware including handles, letterboxes, knockers and hinges to suit your colour scheme.
uPVC doors from Cliffside Windows are available in many popular colours including Rosewood, Light Oak and many more. Similar to our composite doors, the hardware on our uPVC doors is customisable and comes with a large range of glass designs and panels shapes for you to choose from.
What is the lifespan or a uPVC or composite door?
We all want the reassurance that our front doors are made to stand the test of time, and that's something that we can guarantee you will receive when buying either of these two doors.
The average life expectancy of a uPVC front door is 20-25 years, and for a composite door this is 30 years. If your replacement door is well taken care of, however, it will last longer than these expectancies.
Replacement doors in Lincolnshire
Cliffside Windows has helped homeowners across Lincolnshire from Spalding to Gainsborough upgrade their doors. With over 50 years of experience, you can be sure that we will do a great job with your replacement door installation too. From composite doors to garage doors and bifold doors, we offer a range of door types to suit you, and what's even better is that generally speaking, replacing your front door does not need planning permission. Contact us today or give our experts a call on 0800 9700 190 – let us help you!
Read our related blogs:
5 reasons to choose a wood effect uPVC front door over timber
Do you need planning permission to move a front door?