Cliffside installs a range of uPVC conservatories, offering our customers in Lincolnshire the latest styles, high-performance products, and a-rated installation service.
We offer Victorian, Edwardian, and Sun Lounge conservatories, plus you can customise your design to suit your home. Our conservatory frames are available in a range of colours including white, cream, rosewood, and light oak. You can even choose a timber effect for the outside and a light colour to match your interior.
You can also now choose a glass roof for your conservatory with solar glass. This will give you better temperature control, noise insulation and easy cleaning.
Why not come and see our conservatories for yourself in our conservatory showroom, only eight miles southeast of Lincoln.
What is a conservatory and what are the benefits?
Conservatories were often a place to grow plants, while they are now generally used as an additional living space. The actual UK definition for a conservatory is referred to as a building with a minimum of 50% side walls and 75% of the roof area being covered with glass. Often this will mean they will either get too warm or too cold depending on the weather. Changing the roof will improve this but could mean you need to check if you will need planning permission.
A key factor in the building of a conservatory for your home can be the fact that it can increase the value of your home. It is, however, important that your conservatory fits in well with the rest of your property. It will be no good for increasing valuation if it takes up too much space or takes away from your garden space, for instance. Small gardens are often not the best base for a conservatory installation due to the balance of the whole property potentially being thrown off.
What can you do with your conservatory?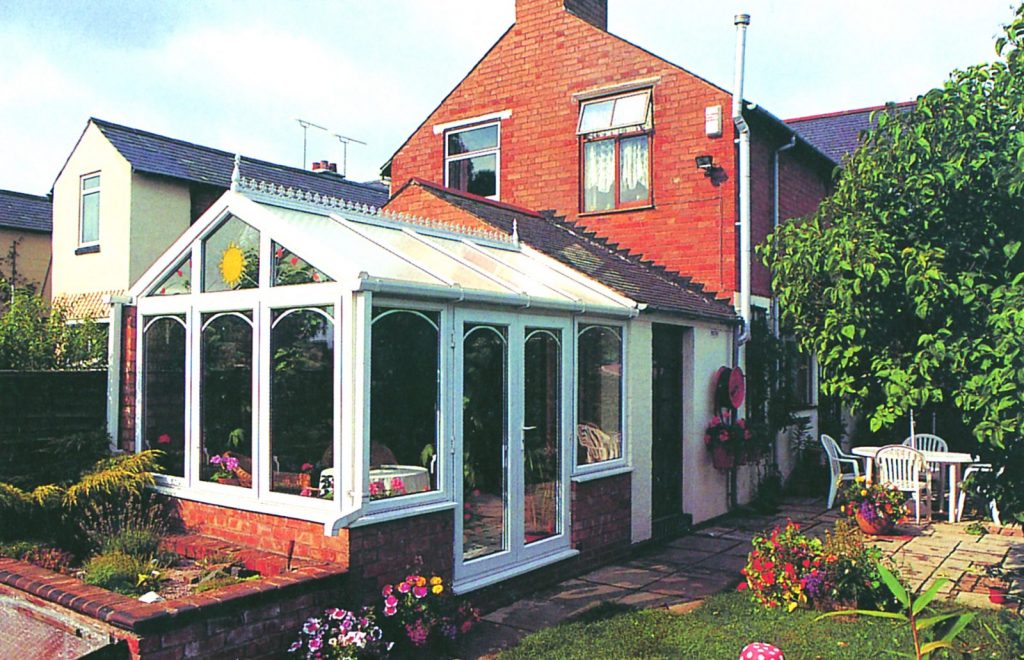 Generally, you will look to use your conservatory as an extended living space or sunroom. Conservatories are ideal for making use of the views surrounding your home.
With large glass panels, not only can you ensure those views are widely available, but the room will also stay warmer for a longer period as a result. A dining room can be a fine option for your conservatory, with the influx of light and extra space giving you further options for the rest of your home.
Additionally, you can even create a pleasant environment for your cooking-based activities with a kitchen conservatory. While previously this may have resulted in a steamy, warm area, the solar glass option means that the temperatures are now better regulated.
Is planning permission required for a conservatory?
Typically, planning permission is not needed in order to be able to build a conservatory. The construction of a conservatory generally falls under permitted development rights, which essentially allow certain home improvements to be carried out without planning permission. Some limitations are attached when it comes to the rights, though. It is also always a good idea to check with your local authority before committing.
Why choose Cliffside to install your conservatory?
Decades of experience installing conservatories in Lincolnshire
Wide range of colours & woodgrain effects
Low maintenance uPVC glazing
Solar glass reduces glare and overheating
Optional Georgian bar appearance
Full installation team, including floor fitters, and electricians
Our windows and fitters comply with industry standards
Conservatory ideas
A Victorian conservatory with the perfect décor to create a relaxing social space
A sun lounge conservatory to let maximum light in for the perfect summer solution
A spacious Edwardian conservatory for storage and events
For a more detailed look into ideas for your next home improvement, why not read our blog post on it?
Contact Cliffside for expert advice about your conservatory project, from planning permission to installation.