Replacement soffits, fascias and guttering throughout Lincolnshire
Cliffside offer a reliable and efficient roofline repair service, installing quality new fascias, guttering and soffits in residential properties across Lincolnshire. Old, leaky or broken roofline products can lead to serious problems to your property, as water ingress causes damp patches, mould and even structural damage.
We offer high-performance uPVC products. Our rainwater systems can withstand harsh weather conditions and will last for many years to come. We can also match colours and styles to your current double glazing in Lincoln, for a similar kerbside appearance. You can also choose between square and rounded designs for your new downpipes.
What are soffits, fascias and guttering?
Roofline products in general play a very important role in protecting the overall structure of your home. Not only do they lend pivotal protection to your home from the outside elements, but they can also improve the external appearance of your property. Guttering is designed to distribute collected rainwater away from your home, Regular maintenance will be required to ensure that the gutters are free of any debris that will cause a problem to its intended purpose. Fascias are boards that help protect the join between the roof and outer walls, while soffits prevent damp and condensation from forming through ventilation.
What are the benefits of uPVC roofline products?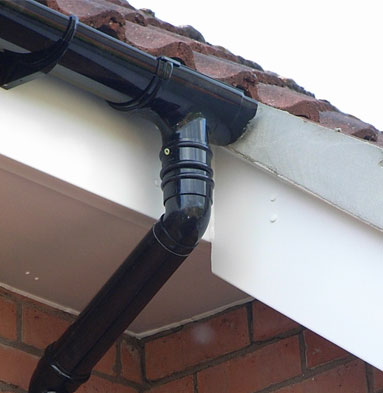 One advantage of installing uPVC roofline products is one that is commonplace with uPVC products in general – its low maintenance.
As is the usual case with uPVC, just a gentle wipe down with a damp cloth will often be more than enough to keep its appearance up. They are also not going to be prone to rotting, cracking or warping, giving that extra clarity to the homeowner.
On a related note, you will not need to give your soffits, fascias or guttering any touch-ups will be required. They will be able to keep their appearance on a long-term basis with just the aforementioned maintenance upkeep. Additionally, along with improving the external protection of your property, you can also improve its aesthetics. At Cliffside Windows, there is a range of colours and finishes that you can choose from to match and enhance the appearance of your home.
Why choose Cliffside to install your roofline products?
Reliable installation company established nearly 50 years ago
Quick and unobtrusive replacement service
Range of colours to match your house exterior
Round or square downpipes
Long-lasting and maintenance-free material
If you're in need of guttering or roofline repair or maintenance, contact the Cliffside team today!
Related posts: