There is a wide range of conservatory styles and at Cliffside, we offer the fantastic Edwardian and Victorian conservatories. We also install sun lounges. Our conservatories are made-to-measure and are made from low-maintenance uPVC glazing. The solar glass used helps to make each conservatory useable all year round.
Victorian conservatory
The classic traditional conservatories are often Victorian, based on the original structures introduced back in the late 19th century.
The front-facing faceted design also incorporates two popular Victorian designs, namely the three facet and five facet. Both three and five facet conservatories feature classic elements such as a bay front and steeply pitched roof, as well as some ornate ridge details.
The three facet style fits well with many locations, while the five facet easily blends aesthetics with space.
Edwardian conservatory
The Edwardian conservatories were introduced shortly after King Edward VII took to the throne after Queen Victoria. The Edwardian era conservatory saw a more subtle style and design than its predecessor and has remained popular right through to the current day.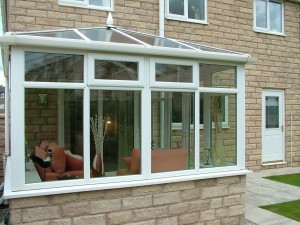 Edwardian conservatories are superb when it comes to maximising space in your home thanks to their typical square or rectangular shape. This symmetrical design lends itself to fully making the most of the floor space available. The additional space makes Edwardian conservatories ideal for providing an extra bit of storage or being able to host home-based functions.
The Edwardian conservatory achieves a vaulted effect via its sloping roof and its flat-fronted style allows it to keep up its traditional appearance.
Sun lounges
Typically, a sun lounge will be attached to the side of a building. Sun lounges can be a space between the home and the garden. They are still able to add a number of benefits, such as offering a budget-friendly option.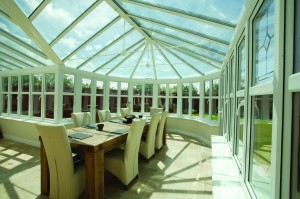 What is the difference between an Edwardian conservatory and a Victorian conservatory?
Edwardian and Victorian are two classic styles that, while similar in many aspects, have some understated differences that make them each unique. For example, the lines of an Edwardian conservatory are more subtle than those in the Victorian design. This is largely because of the focus on providing a bigger influx of natural light and general openness.
Victorian conservatories have a rounded, faceted front which helps to maximise the outside views while making the interior feel a lot bigger.
Both conservatory styles are perfect for traditional properties thanks to their classical roots. That is not to say, however, that they are solely restricted for older homes as they can easily fit in with some more contemporary properties. Traditional houses, though, will always be typically the best base for either an Edwardian or Victorian conservatory.