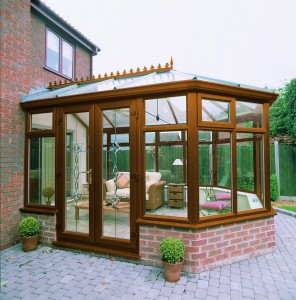 Yes, it's true that a conservatory is for life not just for summer, but there's no denying that they particularly shine during the sunny period. Acting as the best way to relax and enjoy the home's accompanying garden, if you're looking to successfully take in the natural light and heat summer has to offer, a conservatory from Cliffside just might be the ideal solution.
The freedom of choice and extra living space
Readily available in a range of styles ranging from the traditional Victorian to the simple yet effective Sun Lounge, conservatories are great at providing some much appreciated extra living space that, thanks to modern glazing techniques, always feel comfortable to be in. When it comes to summer in particular, they're a great place to host events such as BBQs and house parties, creating many memories where enjoyment can be had.
If you're a homeowner wanting to make the most of their outside space, conservatories are a great way to improve access between the home and garden. It's likely that you'll want to travel between the two a lot throughout the summer period, you'll experience the feel and atmosphere of the garden without ever having to actually leave the comfort of your home. No risk of sunburn, but with all the light and breeze you crave!
Allowing homes to make the best use of natural light
With a conservatory installed towards the rear of your home, you'll be surprised just how effectively the mood and atmosphere of the area will be brightened, not just in your new conservatory but rear rooms also. Light will successfully travel through the surrounded glazing to make the area much more inviting whilst never being at risk of being overwhelmingly hot.
When appropriate, our professional team of installers can install a high performance glass roof in the structure if so desired, allowing the natural light to travel from above as well as around. For those worries about glare and overheating, you can use the space comfortably knowing that the solar glass incorporated within the uPVC frame is designed specifically to combat this – squinting is a thing of the past!
Fully customisable to your specific home style and tastes
As well as various conservatory styles to choose from, every conservatory installed by Cliffside can be customised in many ways to more easily tie in with the current personality of your home. For instance, our conservatory frames are available in a range of colours including white, cream, rosewood and light oak. You can even choose a timber effect for the outside and a light colour to match your interior.
Celsius solar glass can also be incorporated into your conservatory's glazing when requested, helping homeowners gain further control of the temperature but also making for increased noise insulation and easy cleaning. If there's a specific feature or element you'd like to achieve from your new conservatory, we'll work sufficiently with you to better achieve your ideal home extension.
Cliffside Windows: Expert installers of high performance conservatories
At Cliffside Windows, we have over 50 years' experience installing high quality uPVC conservatories all over the Lincolnshire area. To find out more about how a conservatory can help to improve your summer experience, give us a call on 0800 9700 190 or enquire for free online.