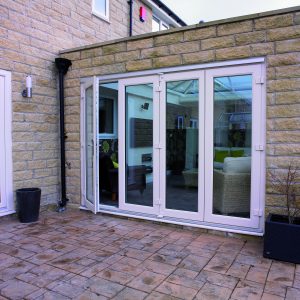 As one of our most popular products due to their high thermal performance, fully customisable doors available in many colours and woodgrain foils, and multi-point locking systems for built in-security, there are a variety of benefits of sliding patio doors. Read on to find out what they are.
Sliding patio doors are an ideal way to brighten the mood and atmosphere of your home
Because sliding patio doors naturally boast a generous amount of larger glass panels (when compared to other back door styles), they encourage more natural light and fresh air to flood through your living environment. As well as brightening the back of your property, patio doors can help you to reduce your energy bills as you will not need any lighting to light up your living space – your patio doors will do this for you.
A brighter room helps lighten both the mood and atmosphere of anyone who enters it and what's more, sliding patio doors are able to open without the need to rearrange or reorganise furniture – something our customers love to hear.
Our sliding patio doors feature large glass surfaces and slim frame profiles
When compared to other patio door styles such as French doors or stable doors, sliding patio doors from Cliffside Windows feature large glass surface areas and slim frame profiles. Bigger glass panels simply mean that sunlight is able to pass into your home at a multitude of different angles and directions – filling out a room with the natural beauty of the outside.
A smooth and effortless operation is guaranteed for your sliding patio doors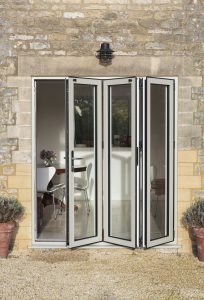 At Cliffside Windows, we're so sure that your sliding patio doors will make it even more tempting to transition to the garden, all of our doors benefit from a smooth and effortless operation that never makes entering the outside a hassle or a challenge.
Their glass panels slide effortlessly to the side on a track, meaning that this much-needed extra space is always easy to access.
Because our selection of sliding patio doors always provides unimpeded views of the outside whether they are open or closed, the illusion of an extended space is guaranteed. Meaning that whenever a chill might tease you back inside the home, you can still feel relatively close to the beauty of an English summer.
It's no surprise that sliding patio doors are so popular in the summer, being so effective at letting in natural light at a wildly affordable price.
Cliffside Windows offers replacement doors in Lincolnshire
Cliffside Windows has been providing the local homeowners of Lincolnshire with a range of high-quality home improvement products for well over 50 years, sliding patio doors included. To find out more about how sliding patio doors can help enhance your home, call us on 0800 9700 190 or get in touch online.
Read our related blogs:
Why the summer is the best time to invest in a conservatory