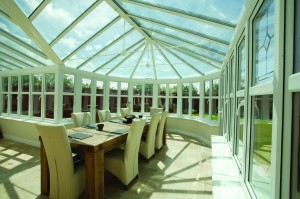 The summer months are when the benefits of conservatories are best felt. Here are 4 reasons why summer is the best time to invest in a conservatory:
Summer: the season when conservatories shine
Believe it or not, but the very first conservatories weren't developed with summer in mind at all. In the 17th century, the conservatory was invented to provide a winter sheltering place for citrus fruit and exotic plants. These Mediterranean and tropical plants wouldn't have been able to withstand the colder temperatures of Northern European winters, and so the conservatory provided a place for them to survive the winter.
It was during the Victorian period that conservatories began to be used for more social affairs such as tea parties. As people began to use their conservatories more throughout the year, they found that the structure was the perfect place to spend a summer day or evening. This naturally led to the conservatory being used more for event during the summer months.
The idea stuck. Conservatories went from being a place associated with winter and escaping from the cold, to a place where summer could be enjoyed in full. They're still the perfect place to experience summer in your home to this day.
Why invest in a conservatory in summer?
1. To maximise ventilation and natural light
With a range of windows that can be opened, as well as doors, conservatories are able to provide enhanced levels of ventilation. This allows you to balance the temperature in your home much more easily and makes them incredibly useful places during the warmer summer months when the rest of your home can feel like a furnace.
What's more, with its large surface area of glazing, a conservatory maximises natural light, making it the perfect place to spend a sunny summer's day reading, sewing or just relaxing.
2. To improve access to the garden and outdoors
As an annex, conservatories are very useful for improving access between the home and the garden: perfect for the summer months when it's likely that you'll be between the two very often. A conservatory allows you to gain all the benefits of being outside; the sunlight, the cool breeze etc. without the hassle such as insects and sunburn that comes with being in the garden.
3.To provide extra space around the home
Conservatories are a great way to improve the amount of usable space in your home. When it comes to summer and the barrage of events such as BBQs and parties that occur. If under a certain size, conservatories will often not require planning permission making the extra space that they provide especially useful if you're entertaining.
4. To improve your house price
If you see your home as an investment and you're thinking about moving in the winter, adding a conservatory could boost the potential price of your property. Some experts estimate that it can raise the price of your house 9% making it a very useful way to add value to your home.
Improve your home with a conservatory from Cliffside today
As one of Lincolnshire's longest trading home improvement companies, Cliffside are specialists when it comes to installing high quality conservatories. To find out more, give us a call on 0800 9700 190 or send us an email.