When it comes to classic conservatory styles, there are a great selection to choose from out there. At Cliffside we have the best in high-quality, traditional and modern conservatory styles for you to decide from; ensuring that you can find the design most suited to your home.
The conservatory itself traditionally dates from the 16th century, when wealthy, Northern-European landowners began to cultivate lemons and other citrus fruits that trade from the warmer Mediterranean had begun to bring to their lands. Constructed with glass roofs and walls, the conservatory was designed to let as much light and warmth into the room as possible, aiding growth and helping the delicate foreign plants survive the harsh European winters. By the mid-nineteenth century, conservatories had begun to be used as a social rooms; a place where well-off Victorians could sit, dine and talk over a cup of tea, amongst their exotic floral specimens. Much of the classic conservatory style that we know and love today has its basis in this era.
All of our uPVC conservatory frames are now available in a great range of colours, including cream, rosewood and light oak. There's also the option of choosing a timber effect for the outside, and a matching light colour for your interior. We can even offer glass conservatory roofs with Celsius solar glass. This can provide better temperature control, noise insulation and easier cleaning, reducing the maintenance needs of your new conservatory. Trading for nearly 50 years, Cliffside can offer you a professional expertise and honed craftsmanship in the construction of your conservatory that you won't be able to find elsewhere.
Here's some of the classic conservatory styles that we can offer;
Victorian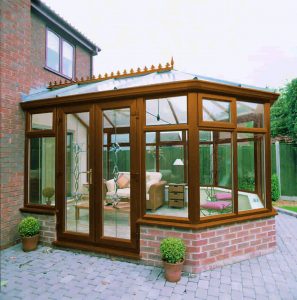 A traditional classic conservatory style with graceful lines and elegant corners, the Victorian conservatory is usually created in a round, 'D' shape with five sides, or a bay. The style features a sloping roof which provides 360° sunlight, all year round. Complementing both period and modern properties, the Victorian conservatory style is incredibly versatile and can add a great individuality to your home.
Edwardian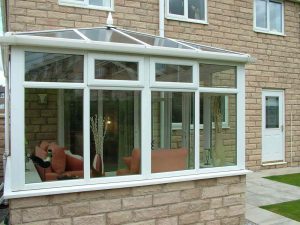 Reflecting the artistic experimentation of the Edwardian era, this classic conservatory style uses impressive rectangular shapes and flourishes to create a light and airy feel that suits most properties. Similar to the design of an orangery, an Edwardian conservatory style is generally square-shaped with a slightly pitched roof that maximises light.
Sun Lounge, or 'Lean-to'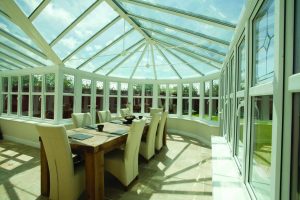 An incredibly versatile, classic conservatory style, the sun lounge (also known as a 'lean to') is designed to allow as much sunlight and warmth into the room as possible. Generally attached to the side of a building and designed with a single, sloping room, the sun lounge provides ample space to relax in and enjoy all the pleasures of the outside without even leaving your house.