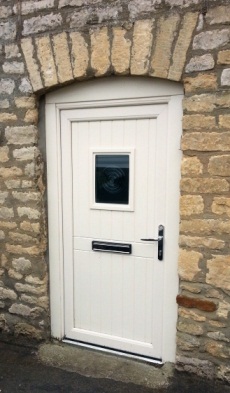 Crime figures published this year show that the rates of crime have fallen to the lowest levels in recent years. In terms of household burglaries, this reduction is due in part to the increased security of new external doors.
Just because crime rates have fallen, it doesn't mean that your house isn't a potential target. Is your house as secure as next door's?
The front door is where a burglar will start – if your front door is old, tatty or the locks are weak, it would be worth thinking about upgrading to a new front door. Composite doors are among the most secure on the market; here's why:
Strong and robust materials
Composite doors are made from more than one material for the best possible combination of characteristics. Our composite doors are made from steel, fibreglass and high density foam and the frames are also made from strong composite materials that will support the door, hinges and lock.
Thicker than your average door
At 44mm thick for double glazing or 70mm thick for triple glazing, Cliffside composite doors are more impenetrable than a hardwood front door.
Multi-point locking system
With one turn of the key, a composite door is locked at the top, bottom and in the centre. The central lock is anti-bump, anti-drill, anti-pick and anti-snap guaranteed.
Secure glazing
Whether or not you choose decorative glass for your composite door, double glazed panes are toughened for extra protection and internally beaded so that the glass cannot be lifted out of place.
Steel reinforced
The door frame joints are reinforced with metal and the hinges are reinforced with steel bolts for added security.

As well as being super secure, our fibreglass coated front doors are fully weatherproof and extremely durable. For extra security, you can choose door accessories such as a spy hole and door chain. Talk to Cliffside for more information about our secure front doors or contact us to discuss more home improvement options.