You don't generally need planning permission to move your home's entrance door. If you live in a listed building, conservation area or an Area of Outstanding Natural Beauty, you may need to seek permission before any work can be done to the property.
With conservation areas and listed buildings dotted all over Lincolnshire, many homeowners that are lucky enough to live in one of these beautiful areas get frustrated that they have to apply for planning permission to make changes to their home. The process is in place to enhance and preserve the character of the area and this responsibility is placed on local authorities to ensure that this is considered while planning any project.
If in doubt, contact your local council building control department for further help.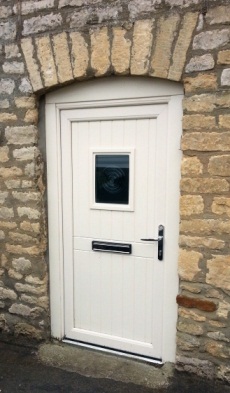 Moving your front door
You may need to consult a structural engineer before moving the entrance of your home.
A lintel is a horizontal structural support beam that can be found at the top of a door frame. It's a load-bearing feature generally made from concrete or steel. A structural engineer would be able to advise the builder the correct requirements and dimensions new lintel so that it can adequately support the load.
Choosing the right entrance door
Security, design and energy efficiency are primary focuses when getting a new door.
Security
Recent crime stats have shown that intruders gained entry through a door in 70% recorded domestic burglaries. Our doors feature strong materials and a multi-point locking system to make sure that your home is protected.
Design
Cliffside Windows offers a wide array of fully customisable uPVC and composite doors. Customise your door from a wide palette of colours and finishes, including handles, letterboxes and knockers, to perfectly suit the new entrance to your home.
Energy Efficiency
Our range of doors are expertly crafted to keep the cold out and the heat in. Maintain a more consistent and comfortable temperature throughout your home by eliminating draughts, lowering your energy bills and saving you money.
New doors for homes in Lincoln and throughout Lincolnshire
We don't just offer doors, with a range of stunning, energy efficient products including uPVC or aluminium windows and conservatories. For more information about any of our products, pop into our showroom in Dunston, give us a call on 0800 9700 190 or contact us online.