Do you need planning permission to move a door? Or, in fact, to change the location of your front door?
You will be pleased to hear that no, you do not generally need planning permission to move your home's entrance door. However, there are certain types of properties and areas where planning permission may be required.
When would I need planning permission to move my front door?
If you live in a listed building, conservation area, or an Area of Outstanding Natural Beauty, you may need to seek permission from your local council before any work can be done to the property.
It may be frustrating having to apply for planning permission if you live in a conservation area or listed building. The process, however, is to ensure that the character and beauty of the area or building is preserved. Planning permission is also in place in these instances to enhance those aesthetics. The responsibility to uphold these measures is placed on local authorities, who will make sure that such Lincolnshire properties maintain their stunning appeal.
If in doubt, we would advise contacting your local council building control department for further help.
What don't you need planning permission for?
Replacing doors that are the same size

If the door replacement falls under permitted development rights
Painting or repainting your door
changing your door to one that is of similar style or size to the original
Minor/small improvements, such as adding accessories (knockers, letterboxes)
Adding a porch (provided it does not exceed three metres of floor space)
Moving the front door of your Lincoln home
Before moving the front door of your Lincolnshire home, we would suggest that you consult a structural engineer. This is so they can advise the builder of the correct requirements and dimensions for the new lintel so that it can adequately support the load.
Choosing the right front door for your Lincolnshire home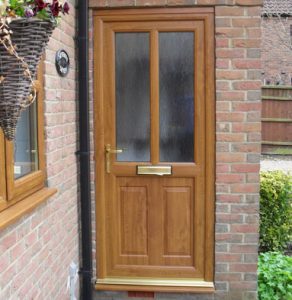 If you've decided to invest in a brand new entrance door, you might not know where to start in terms of what to look for.
Security, design and energy efficiency are primary focuses when getting a new door. A high-security door is likely to keep your home safe from intruders, whilst a door with a good design is certain to ensure your home looks cared for. The energy efficiency of a door is one of the most important aspects, as it can ensure you end up saving money on your energy bills.
How can I make my front door more secure?
Recent crime stats have shown that intruders gain entry through a door in over 75% of recorded domestic burglaries. Our doors feature strong materials and a multi-point locking system, giving you peace of mind that your family is safe as houses.
Additional features such as secure glazing and steel reinforcement make it so your home is very likely to deter any would-be intruders.
What is the lintel of a door?
A lintel is a horizontal structural support beam that can be found at the top of a door frame. It's a load-bearing feature generally made from concrete or steel.
Front door design options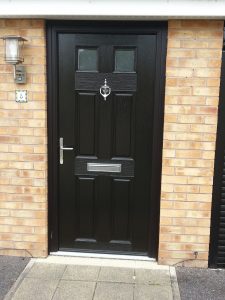 Your entrance door is often the first thing people notice about the exterior of your home.
The look of it can impact people's assumptions about you and the rest of your home, so it's important that it looks amazing.
How do you style a front door?
Cliffside Windows offers a wide array of fully customisable uPVC and composite doors. You can customise your door from a wide palette of colours, door styles, and finishes. Accessories are also available, including handles, letterboxes and knockers, to perfectly suit the entrance and windows of your home.
What type of front door is the most energy-efficient?
Our range of doors are expertly crafted to keep the cold out and the heat in. Both our uPVC doors and composite doors utilise their highly weathertight and insulating design in addition to their premium double glazing. Ultimately, helping you to maintain a more consistent and comfortable temperature throughout your home by eliminating draughts, lowering your energy bills and saving you money.
New doors for homes in Lincoln and throughout Lincolnshire
We don't just offer doors, with a range of stunning, energy-efficient products including uPVC or aluminium windows and conservatories. For more information about any of our products, pop into our showroom in Dunston, give us a call on 0800 9700 190, or contact us online.
Read our related blogs:
5 reasons to choose a wood effect uPVC front door over timber