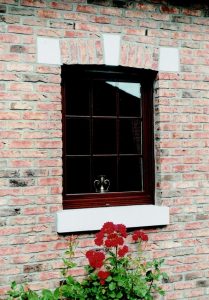 Improving the energy efficiency of your home won't just save you money on your energy bills, but it's good for the environment too. 2019 saw climate change thrust into the spotlight as a hotly debated topic with protests taking place worldwide. There are a few changes that anyone can make to do their bit to save the planet. We've collected a few ways you can make your home more energy efficient.
Get new windows for your Lincoln home
According to the Energy Saving Trust, up to 18% of a home's heat loss occurs through windows. This figure is considerably higher for homes with old single glazed windows. Draughts throughout the house make it feel like there's a chill in the air even when the heating is turned up.
New windows from Cliffside are made with Planitherm Total + clear glass, a warm-edge Swiss spacer V and filled with argon gas as standard. This design retains the home's heat, as well as keeping the cold out. You can upgrade the look of your home too, with a wide range of styles, colours and finishes to choose from.
Switch to energy saving bulbs
Replacing traditional power-hungry lightbulbs with their energy efficient equivalent, are estimated to save you around £2 per year. It may not seem like a lot but apply that to every lightbulb in your home and the savings rack up. Not only do energy efficient bulbs use less power, but they also produce less heat making them safer than traditional lightbulbs.
Lower your thermostat
Popping on an extra layer may seem like a frugal tactic used by fathers and partners up and down the country for generations, but it's not a bad idea. According to the Energy Saving Trust, the average British household could save around £85 per year, just by turning down the thermostat by 1°. Turning off the heating in rooms that aren't used often could also considerably lower your bills.
Turn off appliances on standby
Sometimes it's easier to leave most appliances on standby, ready and waiting for when you need them next. But according to uSwitch, households in the UK waste up to £227 million every year by leaving appliances on standby.
Phone chargers and televisions are the items most commonly left on, with phone chargers accounting for a staggering £28.9 million alone. Turn off the top electricity wasters like TVs, games consoles, phone chargers and computers to reduce your carbon footprint and energy bill.
Install a smart meter
Smart meters measure and display your home's gas and electricity consumption. The Government have thrown their weight behind the smart meter scheme and are aiming to install them in every home across Britain at no additional cost to homeowners. Contact your energy provider for more details about the smart meter scheme.
Cliffside Windows: windows and doors for homes across Lincolnshire
Cliffside Windows is proud to have boosted the energy efficiency in countless homes from Lincoln, Grantham, Sleaford and Boston, and across Lincolnshire. We are continually improving our range of high-quality windows, doors, and conservatories to improve the comfort of your home. For more information, give us a call on 0800 9700 190 or contact us online.
Read our related blogs:
16 reasons to buy new windows other than improved energy efficiency