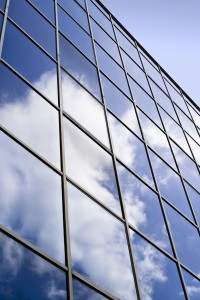 In the past aluminium windows were largely considered the distant cousin of uPVC, always off to the way side and incorrectly being perceived as not having many benefits. With the modern market, these concerns are disappearing more and more every day, becoming increasingly popular with 21st century homeowners, here's why!
A window type increasingly on the rise!
Aluminium products today are offered by almost 5,000 installers. A major factor as to why aluminium windows is now a more practical choice for UK homeowners is due to the fact that they are a great alternative to timber and uPVC, providing durability, strength and style.
Despite being lightweight, aluminium is far stronger than plastic, not only making it easy to install but giving it a great amount of structural integrity that is beneficial to virtually every property. The material is often approved in conservation areas up and down the country due to their sleek and crisp aesthetics, only adding to their rise in the home improvement industry.
The benefits of aluminium windows
So it's now clear as to why aluminium windows are so popular within the home improvement industry, but how can they benefit your home? Made using the latest technology and precision machinery, aluminium windows are now an excellent choice if you're looking to improve various aspects of your home.
Here are the main ways in which your household could benefit from having aluminium windows installed:
Increased security: Aluminium windows can incorporate multi-point locking systems, combine this with the material's natural strength and the result is a secure home.
Low maintenance: Thanks to their lack of corrosion and weatherproof resistance, aluminium windows are exceptionally easy to maintain and uphold.
Various colouring options: Most aluminium windows are offered in a full range of RAL colours with dual colouring options, meaning you can customise the inside and out.
Highly energy efficient: When fitted with a thermal break, aluminium windows are capable of achieving exceptional levels of thermal retention and acoustic insulation.
Slim sightlines: Thanks to their natural strength, thick frames are not needed for aluminium windows. This means they can hold larger panes of glass for increased views.
Cliffside: The experienced window installer specialists
Cliffside have been supplying homeowners with various window styles and options for well over 50 years. This puts us in the best position possible when supplying and installing aluminium windows, if you feel that they are the best fit for you. For more information regarding aluminium windows contact us today!