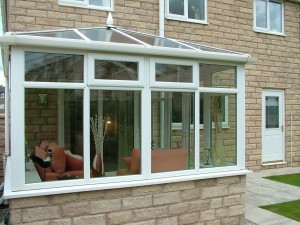 Conservatories are one of the most popular home improvements and it's clear to see why. As well as increasing your space, a new light-filled conservatory will transform how you use your home. How can you make your new conservatory different from the rest? Here are some fantastic conservatory ideas to make your next home improvement successful.
An elegant extension of your home
Do you want your conservatory to blend in with your home or stand out from the crowd? With a range of colour options, it can become a natural extension of your home. You could also choose a contrasting colour to make it noticeable and your neighbours envious. You can even have a different colour on the interior to match your décor.
Spice up your décor
A conservatory is a fabulous way of experimenting with a totally new colour or décor style. Especially if you've been cautious of using it in the rest of your home. If your home is modern, why not make your conservatory full of traditional, country charm? Choose wooden furniture and soft colours. Or how about the modern minimalist look with a monochrome colour scheme?
What do you want it to be?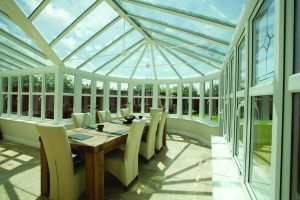 Deciding how you'll use your conservatory will help you plan everything from the shape and size to the colour. Do you want it to be a relaxation zone with a comfy sofa and cosy cushions or how about an entertaining space? An elegant dining table combined with an abundance of light will make it a room that always impresses. With customisable design options, your conservatory can be anything you want it to be.
Bring the outside in
A conservatory makes a perfect garden room. Fill it with exotic plants that easily thrive in the sunshine. White integrated blinds can add a tropical theme. Sliding patio doors let you blend your inside and outside spaces to create an open-plan home. Add outdoor living to your life by having a lightweight table that can be moved outside when the weather's suitable for alfresco dining. You then have your conservatory to retreat to when it gets cooler.
Any style of home can suit a beautiful conservatory
With the choice of Edwardian, Victorian or the sun lounge style, your new conservatory can fit into any home. Period and traditional homes don't have to go without the extra space a conservatory provides. Timber effect frames on a Victorian conservatory would easily suit an older home and be an authentic addition. Georgian bars can also be added to add to the heritage feel.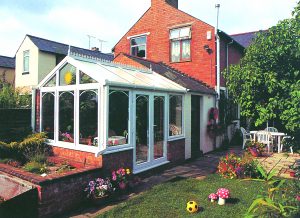 Location, location, location
Traditionally conservatories have always been south facing so they can get the most sun. However, if your family are not all sunseekers and prefer the shade this might not be your best option. Consider where your best views are – a conservatory makes a stunning place to admire your surrounds.
Share your conservatory ideas with us
By choosing a reputable company like Cliffside Windows, your new conservatory will be the highlight of your home. We have a wealth of experience installing high quality conservatories across Lincolnshire. Our uPVC conservatories come in a range of colour and design options to allow you to personalise it. With low maintenance uPVC frames, they will stay looking good for years to come. With solar glass, a perfect temperature is easily maintained- you'll love spending time in your conservatory all year round. Get in touch today to let one of our conservatories transform your home.