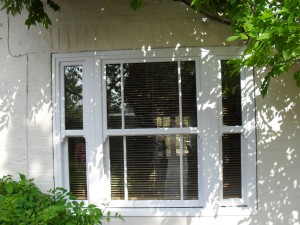 If you're looking for new windows for your Lincolnshire home, you can't go wrong with sash windows. Mock sash windows are just as good, if not better than real timber windows. Created using high performance and low maintenance uPVC, these windows are fantastic if you want a traditional look, without the hassle of genuine timber sash windows.
1. uPVC windows are easy to maintain
Like all uPVC windows, mock sash windows can be easily maintained. Unlike their timber equivalents which require regular painting and varnishing to be kept working at their optimum, mock sash windows require just the occasional wipe down with a wet cloth. This makes them a much more attractive option to Lincolnshire homeowners who want an easy to maintain window.
2. Mock sash windows are cost-effective
Replica sash windows also make great economic sense: they're a lot cheaper than real timber sash windows. Mock sash windows can help you to get the look of authentic timber windows for much less, perfect for homeowners on a budget. Not only that, but the thermal efficiency they provide can also help reduce the cost of your energy bills.
3. Mock sash windows suit traditional and modern Lincolnshire properties
Thanks to the versatility of their design, replica sash windows are suited to both traditional and modern properties. uPVC mock sash windows are perfect for adding a touch of traditional elegance to a modern home or recreating a heritage style in a period property.
4. They're incredibly convincing in their aesthetic
Mock sash windows employ a convincing woodgrain pattern finish that helps to emulate the look of traditional timber sash windows. This means that they look very authentic. In fact, thanks to their convincing looks, in some cases mock sash windows are even appropriate for properties in conservation areas.
5. Available in a range of styles and woodgrains
Available in a wide range of authentic styles and woodgrains, uPVC mock sash windows have a versatility in their aesthetic that timber windows can't match. The wide range of woodgrain options available to choose from means that you can create a mock sash window truly customised to the needs of your property.
Lincolnshire specialists in mock sash windows
Trading for over 48 years, Cliffside Windows is one of Lincolnshire's leading home improvement companies. We install high-quality uPVC glazing for all types of properties, including replica sash windows for traditional homes across the region. There's sure to be something in our extensive product range to match your needs. If you'd like to find out more about our products and services, give us a call on 0800 9700 190 or send us a message.