If you've spent a lot more time at home than you usually do recently, you might have come to the conclusion that your home's interior is drab or dull, but this doesn't need to be the case and can, in fact, be easily changed. There's a number of things you can do to improve your home's interior, here are just a few:
Invest in bay windows or bow windows for your Lincolnshire home
Now it might surprise you to read that a window upgrade can affect the interior of your property, but bay windows and bow windows do exactly that in addition to making the outside look spectacular.
Both bay and bow windows protrude outwards from the home, providing more room in your living space and creating an area that can be used for things like a reading corner. They improve the aesthetic of a room by letting in plenty of natural light thanks to the 180° angle light can enter from, which brightens up any space.
Repaint your walls or replace your wallpaper
A simple solution to the dull interior problem is to give the interior of your home a facelift by changing the design of the walls. Walls are a big factor in how we perceive interior space, and if your walls are looking dated, a new colour or wallpaper design might be what you need to spruce up your home and make it a better place for you to relax in.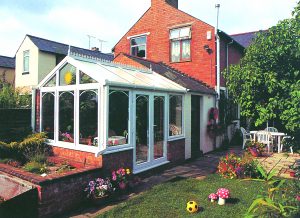 Have a conservatory installed on your home in Lincolnshire
If you're not happy with current rooms inside your home, you could always try adding an entirely new one. A uPVC conservatory is able to seamlessly blend the design staples of a modern home with an abundance of light intaking properties to give your property a brighter space. You can make a conservatory the pride of your home and use it for any kind of function you think of, whether it's a social space for you to relax in with guests and family, your own personal study, or even just a place to be used for extra storage space.
An extension like a conservatory will also improve the value of your home and make it a more eye-catching property.
Windows, doors, conservatories, porches, and roofline products in Lincolnshire
If you're looking for a wide range of home improvements to make your Lincolnshire home the best it can be, look no further than Cliffside Windows. We provide everything from casement windows and composite doors to conservatories and porches. Get in touch or get an instant quote today to see how we can transform your home!
Read our related blogs:
Do I need planning permission for my conservatory?